Vitamix Professional Series 500: Read This Before Buying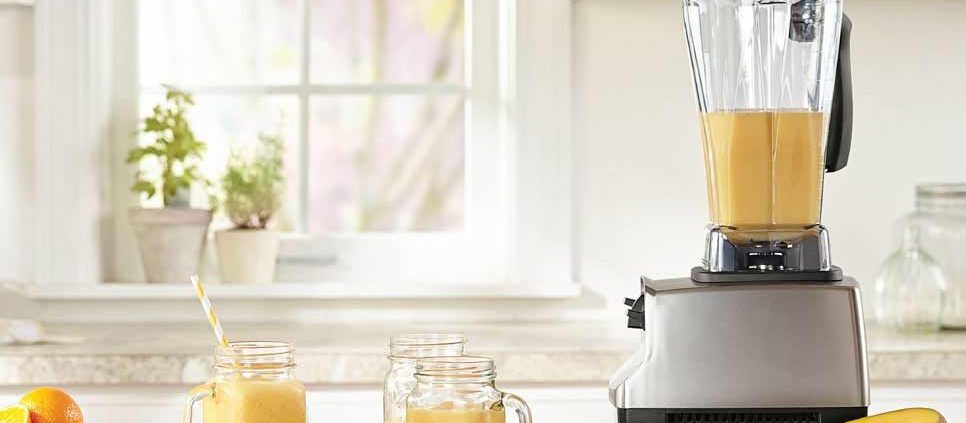 Vitamix is a big manufacturer of blenders. They make a huge range of blenders and cater for both the domestic and commercial markets. One of their most popular blenders for home users is the Vitamix Professional Series 500.
The Vitamix 500 bridges the gap between professional blenders and home blenders. This high-quality machine can do far more than just blend.
What can you make with the Vitamix Pro 500?
Here is an overview of what you can prepare using the Vitamix:
This blender can:
Blend
Chop
Grind
Cream
Churn
Heat
Puree
Whip
This means that you can make the following:
Blend – smoothies, frozen fruit into tasty ices, cooked vegetables into soup
Puree – fruit, vegetables, nuts and potatoes
Use the heat generated by the blades to make soup
Grind coffee beans, seeds and nuts and make your own flours
Whip cream
Chop fruit and vegetables for use in cooking and salads
Make fantastic sauces and salad dressings
Scramble eggs and cook vegetables using the friction of the blades
The components in the box are:
A powerful commercial grade 2 peak horsepower motor (said to drive the blades at up to 240mph)
A 640z blending container made from BPA-free Eastman Tritan copolyester
3-inch diameter laser cut blades made from stainless steel
Tamper with a collar to prevent it from hitting the blades
This blender also features:
A radial cooling fan to keep the blender motor cool
The ability to add ingredients with the blender still on
A 7-year warranty
A copy of the Create cookbook
Ongoing recipe ideas and membership of a customer forum
What do the user reviews for the Vitamix 500 say?
As you would expect for a professional grade blender (different from other home blenders we've talked about) the reviews are generally very good. Across several sites, this blender scored an average of 4.4 out of 5. A whopping 82% of users gave it 4 or 5 out of 5, and only 8% were so disappointed that they rated it as only 1 out of 5.
The pros
Does a good job of green smoothies – one of the biggest issues blender users have is that most models do not make good green smoothies. The majority of blenders slice up the leaves into fine slithers, which means that it tends to stick to your teeth. The 500 seems to do a far better job. Nobody complained about spinach and kale in their teeth.
Amazingly versatile – this is one of the most versatile blenders on the market. The fact that it spins so fast means that you can cook with this blender.
Easy to clean – just add a drop of detergent to some warm water and turn on for a few minutes to clean it after blending or chopping. If you want to give it, a more thorough clean put it in the dishwasher but watch the blades they are extremely sharp.
Filler plug – the removable plug in the lid that makes it easy to add ingredients without having to turn the blender off.
Tamper with an effective collar – the collar on the tamper means you can push food away from the sides and into the blades with the blender still on. The collar stops the tamper from catching in the blades.
The cons
The price – this is definitely at the more expensive end of the blender spectrum, but it seems you get what you pay for with blenders. Bear in mind that you get a 7-year warranty with this blender. Take if from a blender fiend you can easily burn through two or three cheap blenders in 7 years, when you look at it that way the price tag is not high at all.
There were no other cons mentioned as such. The few 1 star reviews came from people who had been unlucky enough to pick up a lemon. Of course, those who received the blender only to find that it did not work were not happy. However, most got a fast replacement, but after spending so much money in the first place they were understandably upset, and that seemed to move a few to leave bad reviews.
Our Verdict
This really is a brilliant blender. Provided you take the time to read the instructions and follow the advice given you will definitely be happy with this smoothie demon. It is not cheap, but you get a great blender and general kitchen gadget. If you have the cash invest in this blender, you won't be sorry you did.
You can buy this blender from several retailers. This means that if you shop around you can get a considerable discount. One of the best places to find big discounts is Amazon, just make sure you check for the best price as of TODAY simply clicking the link below.
https://thalassanutrition.com/wp-content/uploads/2018/04/Vitamix-500-e1525081023103.jpg
760
966
https://thalassanutrition.com/wp-content/uploads/2018/04/web_logo.png
2018-04-30 08:35:09
2018-05-01 03:38:44
Vitamix Professional Series 500: Read This Before Buying