no
Nothing can compare to the love Indonesians have for their crushed chili paste called Sambal. Sambal is a typical Indonesian condiment prepared with the main ingredient, chili, and other ingredients, such as salt and dried shrimp. The heat of Sambal may vary from sweet and spicy to extra hot. There are many different types of Sambal in every region in Indonesia. For example, Sambal Matah from Bali, Sambal Goang from West Java, Sambal Dabu-dabu from Sulawesi, and many more. However, there are also more creative and experimental Sambals that are just as amazing. Here are 28 kinds of Sambal found all over Indonesia, down below!
for Vegan they are all can be adapt please omit the non vegan ingredients ……………
# 1 Sambal Terasi Brambang Tomat
Sambal Terasi Brambang Tomat has a combination of spicy chili paste and fresh tomatoes, with the addition of distinctive shallot flavor.
# 2 Sambal Mangga Muda
Sambal Mangga Muda has unripe mango as its main ingredient, mixed with just the right amount of chili and other spices.
# 3 Sambal Tubruk
Tubruk means "crushed" in English. Sambal Tubruk contains red chili usually crushed by traditional cooking tool called Cowet.
# 4 Sambal Wader
Wader (spotted barb or common barb) is a very small kind of fish usually served deep fried. In Sambal Wader, the deep fried Waders are crushed and finely grinded with chili and shallot which gives it a deliciously savory flavor.
# 5 Sambal Jamur
Jamur means "mushroom" in English. This sambal is known for its juiciness, which comes from the mushrooms, and is very refreshingly spicy. It is very suitable to accompany your warm steamed white rice.
# 6 Sambal Cumi
Cumi or "calamari" gets mixed with crushed chili, and voila! There you have it, Sambal Cumi!
# 7 Sambal Udang Pedas
Udang, which means "shrimp" in English, gets mixed with crushed chili and other flavorful spices.

# 8 Sambal Terong
An extra-large Terong (Eggplant) is cooked and then mixed with crushed chili and shallot.
# 9 Sambal Gobal-gabul
Sambal Gobal-gabul surely has a unique name. This sambal was created by mixing 5 kinds of other sambals which are Sambal Teri, Sambal Bajak, Sambal Terasi Matang, Sambal Rampelo Ati and Sambal Gudangan.
# 10 Sambal Tomat
Fresh tomat (Tomato) is mixed with crushed chili, shallot and other delicious spices which bring out the refreshing spiciness with just the right amount of 'oiliness' .
# 11 Sambal Bajak
Sambal Bajak will deliver a very distinctive flavor because the crushed chili and shallot are sautéed with torn lime leaves and other spices.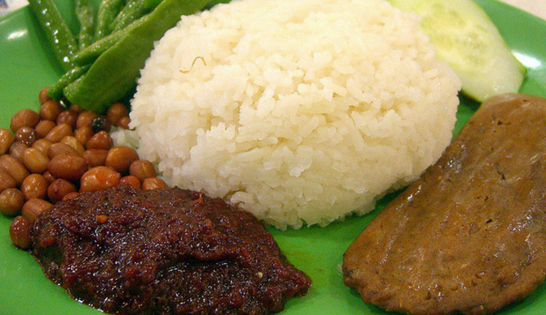 # 12 Sambal Goreng Rampelo Ati
This sambal contains crushed chicken liver. It is cooked with chili paste, coconut milk and other flavorful spices.
# 13 Sambal Rampelo Ati
Sambal Rampelo Ati contains diced chicken liver, mixed mainly with crushed chili and shallot.
# 14 Sambal Kecap
Sambal Kecap is usually made of sweet black soy sauce, mixed with sliced cayenne pepper, sliced raw shallot, and maybe some diced tomato.
# 15 Sambal Goreng Brambang
The flavor character of this crushed chili paste is spicy, slightly salty, slightly sweet, savory, fresh, and with a pinch of sour lime.
# 16 Sambal Bawang Gobal-gabul
As unique as its name, the kind of this Sambal will leave you with the impression of a distinctive aroma of lime leaves.
# 17 Sambal Bawang Lombok Ijo
This sambal mainly contains green chili and shallot, hence 'ijo' in the name: 'green'.
# 18 Sambal Bawang Tomat
Bawang merah, which means shallot in English, is one of the main ingredients of this Sambal. Besides this, there are also red chilis, crushed tomatoes, and other seasonings.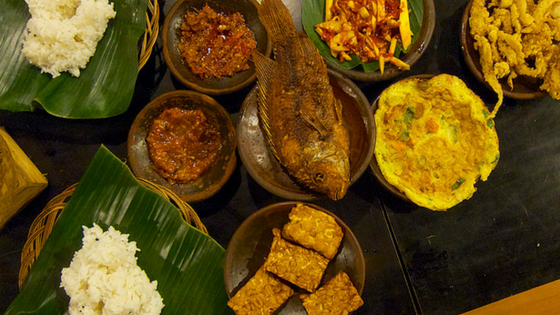 How your food is served at Warung SS (Special Sambal)
# 19 Sambal Bawang Goreng
Goreng can be directly translated to "fried" in English. Sambal Bawang Goreng mainly contains crushed red cayenne pepper and crushed shallot which are then fried or sautéed with the addition of other spices.
# 20 Sambal Bawang
Sambal Bawang is one of the most basic kinds of sambal which is usually used as a substitute for other sambal. It contains crushed red chili, shallot and other seasoning to taste.
# 21 Sambal Terasi Lombok Ijo
Terasi is made of dried tiny shrimps which are processed into paste. Terasi has a very distinctive savory flavor and very commonly used in Indonesian dishes. Sambal Terasi Lombok Ijo contains crushed green chili, terasi, usually shallot and other seasonings. Terasi needs to be fried before use, and gives a distinctive smell when you cook it…some would describe it as the smell of feces.
# 22 Sambal Terasi Tomat Segar
Sambal Terasi Tomat Segar has crushed red chili, terasi, and crushed fresh tomatoes which will make this Sambal a bit watery.
# 23 Sambal Terasi Matang
This sambal contains crushed red chili, shallot, the shrimp paste and other spices. It usually gets fried before being mashed.
# 24 Sambal Terasi Segar
The shrimp paste usually comes in the form of a solid cube. Before it gets mixed with other ingredients, the shrimp paste usually gets half-grilled by stove for about 30 seconds to add more flavor into it. In making Sambal Terasi Segar, the mix of red chili, shallot, terasi and other seasonings is not fried before getting grinded.
# 25 Sambal Tahu
Sambal Tahu contains tofu, and crushed red chili, shallot and other seasonings to add taste.
# 26 Sambal Tempe
Tempeh is definitely the highlight of this Sambal as it gets mixed with usually red chili, shallot and other flavorful spices.
# 27 Sambal Teri
Fried Teri or Anchovy fish gets mixed with red chili, shallot, and other spices to taste.
# 28 Sambal Belut
Belut or Eel fish in English, gets deep fried, crushed and mixed with grinded red chili, shallot and other spices. This sambal tastes spicy, slightly salty and deliciously savory.
Sambals are best eaten as the dip sauce of the protein on your plate. Start with ayam goreng (fried chicken), ikan bakar (grilled fish), or even with tahu and tempe goreng (fried tofu or tempeh). As you dive into your plate, usually the protein gets accompanied with steamed white rice and sautéed vegetables as a side dish.
Is your mouth watering after reading all those kinds of Sambal above? Why don't you come to your nearest Warung Special Sambal in Indonesia? You can not only find one or two kinds of sambal there, but also all 28 kinds of Sambal mentioned above! Warung Special Sambal has poured tons of imagination into creating all these kinds of Sambal, so what are you waiting for?!
https://i1.wp.com/thalassanutrition.com/wp-content/uploads/2018/09/Sambal_cobek.jpg?fit=2592%2C1944&ssl=1
1944
2592
Eric Lecras
https://thalassanutrition.com/wp-content/uploads/2018/04/web_logo.png
Eric Lecras
2018-09-20 00:55:38
2018-09-20 00:55:38
28 kinds of indonesian Sambal