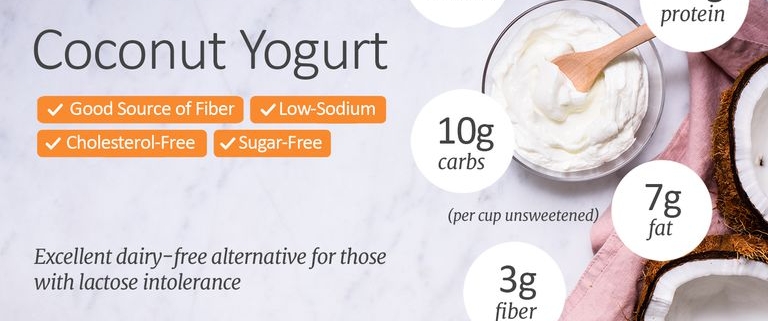 NO
Calories, Carbs, and Health Benefits of Coconut Yogurt

With a wide variety of options, yogurt lovers can get their fill even if they are dairy-free. One of the hottest dairy-free alternatives is of the coconut variety. In fact, since the FDA defines yogurt as a product strictly derived from dairy, the technical term for a "yogurt" made from coconut products should be deemed a "yogurt alternative." Learn more about the creamy options and healthy attributes below.
<":ion Tips <!-p>ke your own coconut milk yogurt using a combination of canned coconut milk and powdered probiotics. Some recipes require stove top cooking or
pressure cooking
while others do not. Most recipes call for an activation period where yogurt and bacteria are left out at room temperature (usually about 24 to 48 hours) to allow for fermentation. Preparing yogurt in this fashion requires properly sterilized equipment to prevent the growth of yeast and unwanted bacteria, so proceed with caution.
bought or homemade, coconut yogurt alternative can be used in any of your favorite yogurt applications. Here are 5 ways to enjoy:
s and parfaits: The creamy texture and subtle coconut essence makes coconut yogurt an ideal pick for smoothies and parfaits. Blend with frozen fruit and a splash of water (or coconut water) or layer with fresh berries and granola.
Baked goods: From muffins to quick breads to pancakes, yogurt helps keep all kinds of baked goods moist with less fat and calories. You can substitute equal parts cow's milk yogurt for coconut milk but it is worth nothing that making this swap will jack up the saturated fat content.
Frozen treats: The higher fat content of coconut makes it an ideal choice for frozen treats. Pour coconut yogurt and fresh fruit into ice pop molds or whirl in an ice cream machine for a batch of fro yo. For a frozen finger food, use toothpicks or skewers to dip grapes or banana slices into yogurt. Transfer coated fruit to a parchment lined cookie sheet and sprinkle with chopped nuts before placing in the freezer to harden. Enjoy right from the freezer!
Savory dollops: Plain coconut yogurt has a subtle sweetness and coconut flavor that is an amazing dairy-free alternative to cream in curry, soups and stews. Plain coconut yogurt can also be whisked with citrus juice or vinegar and spices to make creamy vegan dips, sandwich spreads and dressings.
Overnight oats: Have a light morning meal or snack waiting for you when the alarm goes off! In a glass jar, combine rolled oats with yogurt, flax or chia seeds and a drizzle of honey or maple syrup; stir well. Cover and refrigerate overnight, serve topped with fresh fruit.
https://thalassanutrition.com/wp-content/uploads/2019/02/coconutyogurt-5c2543d046e0fb0001d6ba10.jpg
512
768
Eric Lecras
https://thalassanutrition.com/wp-content/uploads/2018/04/web_logo.png
Eric Lecras
2019-02-25 06:27:11
2019-02-25 06:27:18
Coconut Yogurt Nutrition Facts