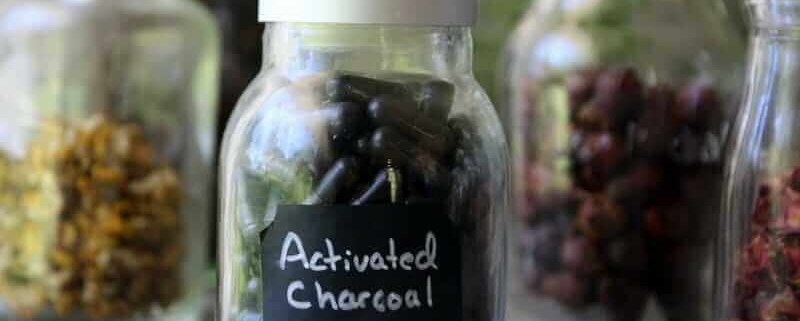 no
Imagine this: You've got one hour to pack for your dream vacation, and all you can take with you is a carry on – what do you toss in your bag? I can tell you one item that would definitely be in mine, whether I'm headed to Iceland's hot springs or a beach in Bali. Activated charcoal.
<!>J 4 capsules of coconut-derived activated charcoal) has a larger surface area than an entire football field. (Dillon et al.) <!>Sr? Great question! s addressed by a doctor or local ER, activated charcoal is also considered helpful in situations that can often be managed at home – mild cases of food poisoning or a stomach bug, for example.

Itiextremely helpful for stomach bugs. Activated charcoal is used in many water filters to remove bacteria and viruses, so it makes sense that it supports the body in flushing out what's not supposed to be there. Interestingly, this study found that activated charcoal bound more strongly to e. coli than the normal (beneficial) bacteria found in the digestive tract.
2.
It'eey bug bite – a clear bug bite balm might be better if that's an issue – but activated charcoal is a great option stings and bites. Just mix with a little water and dab on the area.
3. Soothes(Ghea)
"Activated rlence and also to absorb harmful toxins, including infectious agents that cause diarrhea," write James F. Balch, M.D., Mark Stengler N.M.D, and Robin Young Balch, N.M.D. (source)
Many people w Studies which have examined this issue are mixed, which isn't all that surprising. We know from research on SIBO (small intestine bacterial overgrowth) that there are two types of microorganisms that typically cause bloating – ones that produce hydrogen and ones that produce methane. They don't usually respond to the same interventions, so it makes sense that activated charcoal might help in some cases but not others.
For this purpose, Jar Robin Young Balch, N.M.D. recommend the following:
source)
4. Whitens Teeth Naturallydiagraph –>
Activated charcoal binnis that stain teeth, and is traditionally used in Tanzania to clean teeth. (Sarita et al.) Here's how to whiten teeth naturally with activated charcoal. Or if you don't have charcoal, turmeric whitens teeth, too!
5. Non-Toxic Face Paint –>
I developed a recipe for non-toxic face paint after the Campaign for Safe Cosmetics reported that 10 out of 10 face paints they tested were positive for lead and 6 out of 10 tested positive for other toxic heavy metals (source 1, source 2). It's super easy to make!
6. Face Mask
7. Armpit Deodorizer
However, I do know that for somenat quite cut it, adding a charcoal armpit mask to the routine as needed can be really helpful. Just dump 4-5 capsules into a small bowl, mix with water until you reach a spreadable consistency, apply and let sit for 5 minutes, then rinse.
8. Water Filtration
Does activated charcoal prevent hangovers?
Interestingly, I've found that when I drink Dry Farm Wines, which are grown with organic practices and don't contain added sulfites or other ingredients that are commonly used (like sawdust and food coloring), I don't have the issues I do with most wines.
Important note:
Where to buy activated charcoal
This article was medically reviewed by Dr. Scott Soerries, MD, Family Physician and Medical Director of SteadyMD. As always, this is not personal medical advice and we recommend that you talk with your doctor.