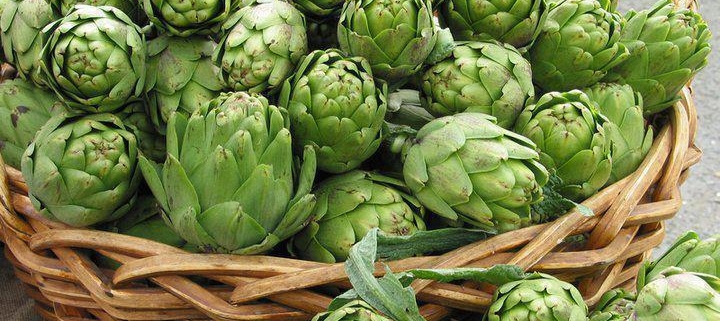 no
Since ancient times, the artichoke has been used for liver and gallbladder conditions, 'cleaning' the blood, as well as the bladder. The Egyptians highly prized it as a health and diet food and Plinius described it as the 'food for the rich' because of the health problems contributed to a 'rich' life style – excessive in rich foods, fats and wine that led to liver illnesses (such as cirrhosis), gout and a general run down condition.
The artichoke is very high in fiber, potassium, calcium, iron, phosphorus and other trace elements important for a balanced system. It is known to positively help poor liver function as well as lower the blood sugar, improve the appetite and digestion, is diuretic and may help some migraine conditions (most especially those caused by toxins in the blood). As it helps the body rid itself of excess water and moves toxins it also has the added side effect of an improved skin luminosity.
In a poor diet of excessive drinking (most especially strong alcoholic drinks), high red meat and fat consumption, the artichoke can boost the liver's ability to regenerate its cells.
The liver's main function is the metabolic transformation of nutrients from the food we eat. It also detoxifies certain poisons. An overstressed liver obviously cannot function properly, which among other things results in poor assimilation of nutrients and increased toxins in the blood. This will eventually adversely affect the entire body causing numerous ailments that are often only symptomatically treated. What is amazing are the numbers of people who abuse their livers and hence their bodies, think they eat well, yet are suffering from a form of malnutrition – a word one associates with poverty and third world countries.
Artichokes only have about 25 calories. They are excellent for weight loss and maintaining optimum health. Artichokes are extremely filling and two or three of them will suffice for a complete meal with amazingly no fat, tons of fiber and an abundance of vitamins. They are easy to prepare, just steam them. Serve them with a little Apple Cider Vinegar and some lemon and balsamic vinegar.
https://thalassanutrition.com/wp-content/uploads/2019/09/644661_10151082027057333_1184806898_n.jpg
540
720
https://thalassanutrition.com/wp-content/uploads/2018/04/web_logo.png
2019-09-25 01:33:32
2019-09-25 01:33:38
Artichoke heart!!