Kefirs are cultured drinks produced by lacto-fermenting certain liquids for a short 1-3 day period of time. Among the list of fermented foods, they are one of the easiest to make from scratch, requiring only a few ingredients and minimal skill level.

When it comes to water kefir vs milk kefir, both can be health-enhancing drinks to consume for most people. However, each variety of kefir is made somewhat differently, utilizing unique cultures that provide slightly different end results.

If you're someone looking to add kefir into your daily regimen, you may want to learn more about these cultured drinks to see which one might be best for your current health objectives.

The term "kefir" has several pronunciations depending on your country of origin. Most people in the Western U.S. call it KEE-fir or sometimes KEFF-er. The original Russian pronunciation however is KUH-fear.

On this page, we are primarily discussing the difference between traditional-style water kefir vs milk kefir when making homemade artisanal varieties of this beverage. Both are made from SCOBY grains, similar to how kombucha is fermented. The term SCOBY is short for Symbiotic Colony of Bacteria and Yeast, not to identify one particular ferment.

But, before we discuss the top differences between water kefir vs milk kefir, we'd first like to clarify the distinction between powdered kefir starter cultures and commercial based kefir products.

Powdered Kefir Starter Cultures Vs Kefir Grains

The use of kefir grains, in both water and milk variations, is the traditional way to make milk kefir or types of water kefir, also commonly called "tibicos."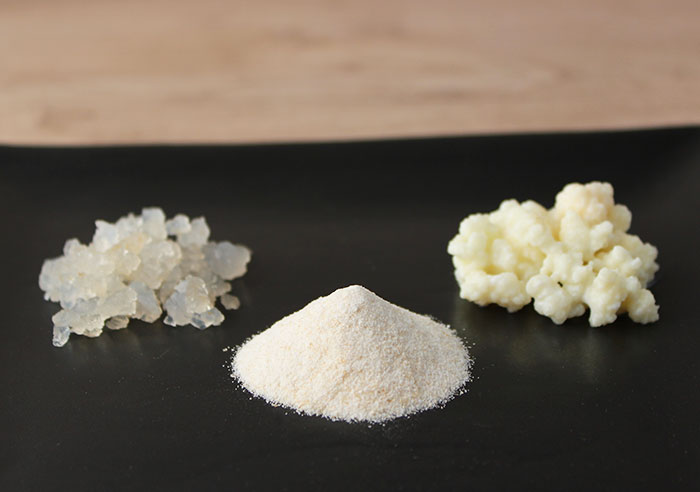 In recent times, especially is the last decade, kefir powdered starter cultures have become a popular way to make homemade kefir without having to use heirloom SCOBY grains. Although these types can be more convenient and used interchangeably between water kefir and milk kefir, they only contain SOME of the beneficial strains, not the diverse amount found in "true" grain-made kefir ferments.
While the kefir created from quality powdered starter cultures, like the one from Body Ecology, can be reused for a number of batches, eventually it will lose its ability to culture the liquid substrate.
By comparison, the grain cultures used to make traditional-style kefir are actually referred to as a type of "evolved life form" and a living matrix of microbes that, when properly cared for, will proliferate and in-effect live indefinitely. So yeah, they are a bit different!

Though powder-made varieties have their place, for the serious kefir consumer, traditional-grain based kefir can be a better, more cost-effective probiotic-diverse option to powder starters.

What are Commercial Kefir Products Made From?

Kefir grains are considered "heirloom" forms and are more of an artisan variety not used on a commercial scale as they are harder to maintain and regulate for production purposes. Commercial kefir products, both milk and water, are therefore most always made using dried probiotic powder starters.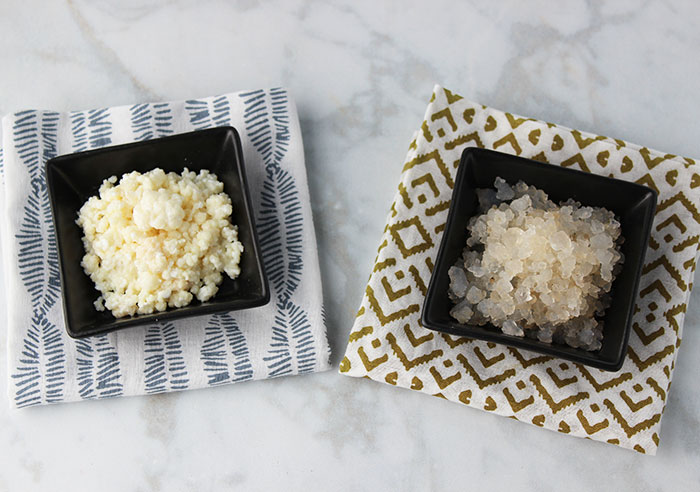 Top Differences Between Water Kefir Vs Milk Kefir

1) Water Kefir and Milk Kefir are Not Related Cultures

While both go by the name "kefir" and are cultured from SCOBY grains, the two are not actually directly related.

Milk kefir is believed to have its origins from the Caucasus mountain regions and has a long history of use in Russia, the countries Georgia and Turkey as well as other regions of Eurasia and Central Asia. Milk kefir grains themselves look a bit like small off-white cauliflower florets and have a dense rubbery texture. They vary in size but are generally larger than water kefir grains.
Water kefir or tibicos grains also vary in size but are nearly translucent, like tiny crystals, and tend to be smaller than milk grains. They also have an irregular less rounded shape in addition to a softer gummy texture.
2) They are Used to Culture Different Substrates

The obvious difference between water kefir vs milk kefir is that they are used to culture different liquids. If you've ever tried to use water kefir grains to ferment milk, you may have come to this realization.

Milk kefir grains are used specifically to culture milk. Traditionally, dairy milk is used but vegan milks can also be substituted. A popular one we enjoy is coconut milk, made with the flesh and water. To keep most milk kefir grains alive and thriving, however, it is necessary to periodically use a dairy milk source. We personally prefer using raw organic grass-fed cows milk over pasteurized.

Water kefir is strictly used to ferment carbohydrate-rich sugary liquids, such as coconut water, fruit juice or water that has been mixed with a sugar source. The water used when making kefir works best in spring water or water that has minerals added.
Typically, 2 Tablespoons of water grains and 1 Tablespoon of milk kefir grains are used for about one quart of liquid.
3) Contain Different Strains of Lactic Acid Bacteria and Yeast

The visual distinctions between the two grains are of course associated with the different blend of yeast and bacterial microbes they are made of, probiotics that will further inoculate into the fermented liquids.

Both milk and water varieties are considered "wild" cultures, in that they can take on other species over time. Grains may therefore vary from one to the next in overall composition. To keep your homemade ferment free of other species, you can use an air-lock cap as kefir's don't require oxygen to ferment.

Milk Kefir Bacteria and Yeast Strains
Protein: 4 grams
Vitamin B1 (thiamine): 11% of the RDA
Vitamin B2 (riboflavin): 15% of the RDA
Vitamin B3 (niacin): 4% of the RDA
Copper: 21% of the RDA
Iron: 11% of the RDA
It also contains decent amounts of magnesium, potassium and manganese and small amounts of almost every other nutrient that you need.
9). 10). s ol From Oxidation intible to oxidative damage.

antioxidants in spirulina appear to be particularly effective at reducing lipid peroxidation in both humans and animals (16, 17).

18). Fatty structures in your body can become oxidized, driving the progression of many diseases. The antioxidants in spirulina can help prevent this.
https://thalassanutrition.com/wp-content/uploads/2019/03/IMG_0102.jpeg
4032
3024
Eric Lecras
https://thalassanutrition.com/wp-content/uploads/2018/04/web_logo.png
Eric Lecras
2019-03-20 05:44:16
2019-03-20 05:44:23
Does Tongkat Ali Really Work?